Braised beef tongue, pickled jalepenos, pico de gallo, and salsa verde. Put it on top of street taco sized corn tortillas, sprinkle some cilantro on top and you have yourself a Hecho taco.

I've been coming to Hecho's ever since my bride Carli got her first tattoo a few years back at Two Birds Tattoo on Greenwood Ave in Seattle.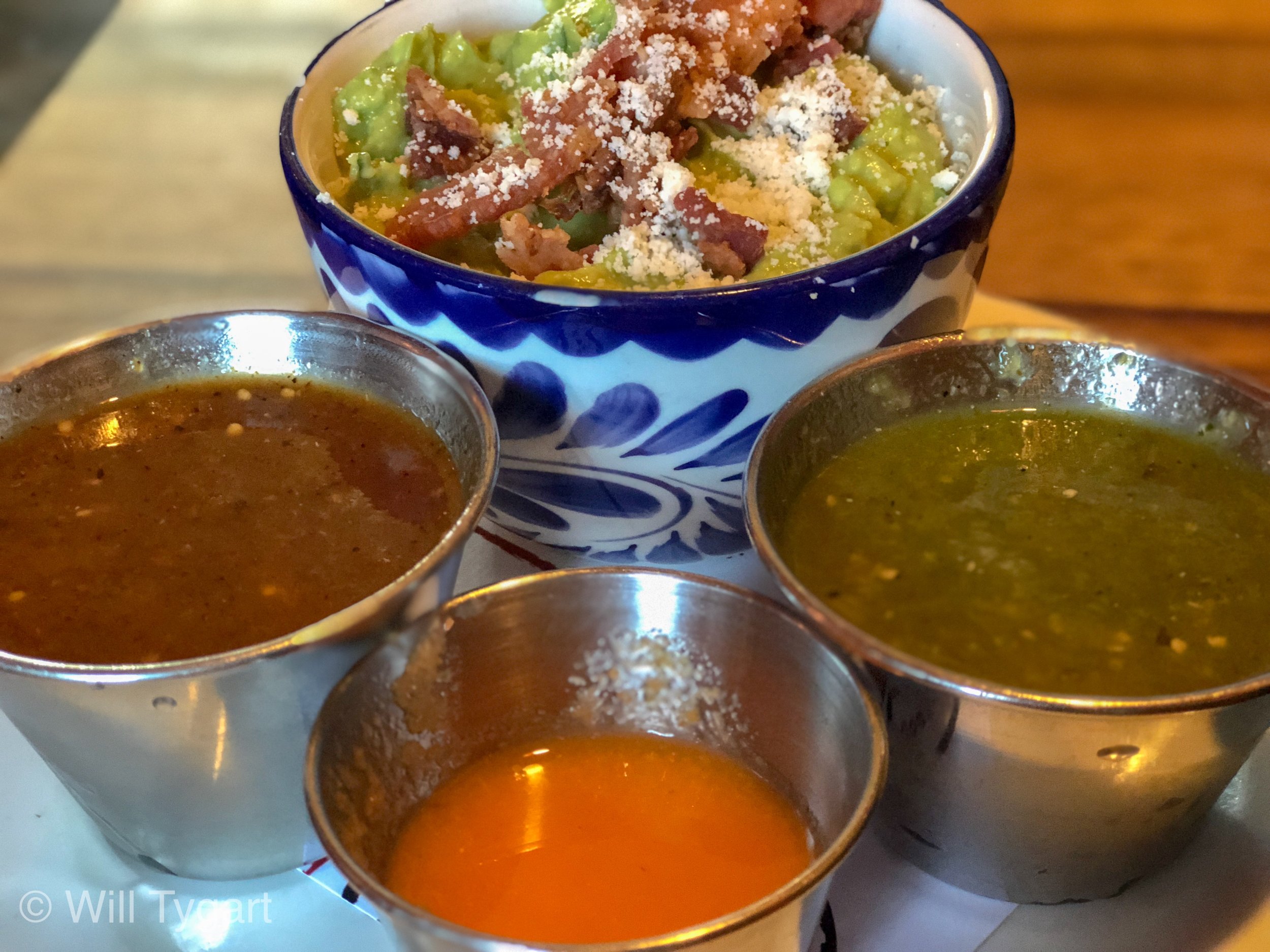 The first time I walked through the door and ordered "chips and salsa" at Hecho's I knew something was different about the place.

Thick corn chips that are cooked when ordered come with three unique salsas. The word unique is thrown out there a lot. The mushroom salsa at 2 Margaritas is what I would consider unique. Most other salsas are just variations of the typical red salsa we all know.

The trio of salsa include a red salsa that has a chipotle flavor, a verde salsa that is a tangy salsa that has the right amount of crushed onions, and then the star is a habanero salsa that is sweet and pretty high on my personal heat chart.
I originally ordered the beef tongue taco years ago so I could scratch it off my list of things I've eaten. I put tongue in the same category as frog legs, fermented tofu, and raw oysters. Before you eat it you think you're just trying someones dare but when you're done you the hype behind it is the real deal.

Today I ordered a grilled cod taco to go with the tongue. One of the things I love about Hecho's is their range of tacos that you can try for just $4. If it's a 12.95 plate with rice and beans the focus on a taco is muddled and you don't appreciate it as much.

At $4 each I can venture out and try a couple….or three…… which include:
Chicken
Seasonal Veggie
Pork Al Pastor
Chipotle Pork
Carnitas
The rest of Hecho's menu is full of both Gluten Free and Vegetarian items.
Empanada

Shrimp Aguachile

Ensalada

Esquites

Pasole

Buttermilk Chicken

Fundito

Escabeche

Papas

Fried Sarranos
They have a really inviting atmosphere with an attentive staff that make me feel like a local. They're located at 7314 Greenwood Ave N. in Seattle. They can be found at www.hechoinseattle.com